We are excited to announce a new way for Home Pro's to stay in touch with clients and help spread the word about HomeDiary. Home Pro's can now invite people they know or have done business with to HomeDiary.
For Home Pro's: This puts your contact info within easy reach of your clients by creating a contact card. If you ever change email, phone numbers, or companies, you can update your card and it will be automatically updated for anyone you've invited.

For Homeowners: Your Home Pro's contact information is within easy reach if you have follow up questions or want advice on other pro's or services they might recommend (real estate agents are a great resource for recommending other Home Pro's — just ask!).
Important NOTE for Homeowners: Your HomeDiary is private by default. Nobody besides you has access to the information in your account unless you explicitly share it. Using the invite link to sign up simply populates a contact card in your list of Home Pros.
See our Help Video on inviting your clients
Or - Here's how it works in 4 steps
Create a HomeDiary account
Add a HomePro sponsor card to your profile
Copy / paste the invite link
Send the invite
Create your own account
Add a Home Pro Profile
Got to your profile page:


Expand the HomePro section:


Fill in your profile: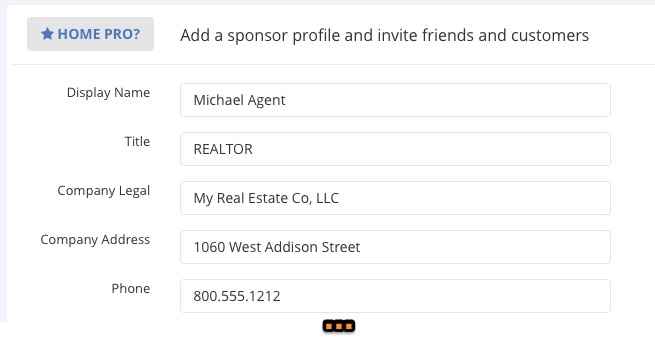 Be sure to hit save.
Copy / Paste link
Once you hit save, you'll see an Invite Link section appear. Clicking in the box will highlight the descriptive text as well as your unique invite URL.
Copy this to your clipboard (File > Copy, or the shortcut appropriate for your device).

Send the Invite
You can paste the code into an email, Facebook or other social media. Feel free to re-write it in your own words. The important part to keep in tact is the invite code:
Here's what it looks like:
https://homediary.com/invite/yourcodehere

The last bit — "yourcodehere" — will be unique to you. Use that URL anywhere you'd like to to invite others to HomeDiary.
If you would like some eye candy to go along with your email, just right click on this image and "Save as" an image on your computer, then upload it into your email blast.